B-Series NEMA 7/9 Pressure Switch
Overview

Applications

Certificates & Approvals
The Ashcroft® B7 NEMA 7/9 pressure switch is designed for use in virtually all industrial and OEM applications. This model provides accuracy, reliability and long-cycle life, while the rugged, explosion-proof housing provides superior protection. Ideal for satisfying requirements for pressure control, safety shutdown or alarm operations in hazardous applications. 
Key Features:
Explosion-proof enclosure provides uncompromising protection
Adjustable from 15%-100% of range
Fixed or limited adjustable deadband
Wide selection of switch elements and wetted materials
External locking screw (ATEX / IECEx approval only)

Specifications:
Accuracy: ±1.00% full scale
NEMA 7/9 (IP66) enclosure
Epoxy-coated aluminum (standard)
316 Stainless steel (option XYW)

Single setpoint
SPDT or DPDT switching option

Pressure ranges: vacuum to 3,000 psi

The B-Series NEMA 7/9 pressure switch is designed for use in a host of applications is ideal where accurate and reliable pressure measurements are essential:
Process Market:
Offshore Oil Rigs
Chemical and Petrochemical Plants
Pulp and Paper Mills
Power Plants
Steel Mills
Water and Sewage Treatment Facilities
Industrial Market:
Pumps, Compressors and Turbines
Boilers and Burners
Degreasers and Evaporators
Recovery Systems
Reverse Osmosis Systems and Filters
Food Processing
Ground Support Equipment
Hydraulic and Lubrication Systems
Heating and Air Conditioning
Marine Equipment
Specialized OEM Equipment
Related Products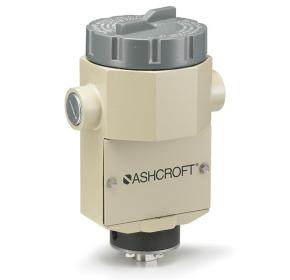 The Ashcroft® PP pressure switch was designed for use with harsh applications where uncompromising protection is required.
The Ashcroft® 80 isolation ring or isolation device is mounted inline with process piping.
Tools
Locate an authorized Ashcroft distributor in your area.

Use the selector to review compatible wetted materials and requirements of your application.

Need to convert measurement units? Check out our quick and easy approach to pressure, temperature and flow unit conversions.
Frequently Asked Questions
Get quick answers to common questions. Choose your topic: